Iron Butt Saddlesore 1000 on a 1972 Kawasaki H2

Twice a year a bunch of friends and I get together at the Deals Gap Motorcycle Resort and have a 2 stroke motorcycle meet. The meet that we have in May is the big one with 100+ people showing up with their bikes, but the meet in August is usually just a few...maybe a dozen people or so. Last August, I rode my 1973 GT550 to the meet and completed an SS1000 ride (certified) on the way home. This year I decided to ride my 1972 Kawasaki H2 (750cc 2 stroke 3 cylinder) to the meet and attempt an SS1000 on the way to the meet. After 3 previous failed SS1000 attempts with the H2, I had decided that if I seriously planned the ride, it wouldn't work, so I didn't plan this ride in any way other than choosing a route that would give me the 1000+ miles if it happened. I wish I had taken more pictures. I have a before, during, but no after...I was tired at the end and didn't think about snapping a photo of my bike if front of the sign at the Deals Gap Motorcycle Resort..

Anyway, I had planned on joining my friends for the meet for most of the summer but I quit my job in July and wasn't sure if I was going to make the August meet until the last minute. I decided to spend my little "disposable" income and take the trip anyway...I've never been out of a job for more than a couple of days if I was looking. So I interview for a job at a Harley Davidson dealership on Monday, 8/21 and on Tuesday, 8/22, I load up my 1972 Kawasaki H2. Just loading the bike was a challenge. The factory optional luggage rack was not up to the task as it bolts directly to the tailpiece of the bike and uses it for structural strength. It's OK for a case of beer, but that's about the limit. On my last attempt (May 2006) I had fabricated a rack to carry a 6 gallon fuel cell. It is plenty sturdy and mounts to the frame instead of the tailpiece. So I bolt the homemade rack to the bike, load my cooler full of tools and spare parts and load the bike up. Basically, the bike has a beer cooler with 60 pounds of tools and spare parts in it, a set of Rapid Transit sport bike saddlebags loaded with 10 quarts of 2 stroke oil (needed 5), a gym bag with my clothes, and my sleeping bag. I'm not going to be using the fuel cell. I also have a tank bag that carries my quickly needed stuff...a Maglight, my spare batteries for the MP3 player and flashlight, spark plugs/wrench, an extra pack of smokes, my cell phone, camera, toothbrush and toothpaste, sunglasses (never used, but I carry them) aspirin, and antacid/acid reducer (I have a mild ulcer that acts up occasionally)

So, I have the bike loaded, and the round trip budgeted for about $500. That counts my fuel, food, and the hotel room at the Deals Gap Motorcycle Resort, which I'm sharing with my good friend Lane and splitting the cost. I take off from my house with a grossly unbalanced bike, $350 in cash and a debit card with $200 avaliable. I'll pay for gas in cash except for my corner reciepts (for documentation purposes). Oh yeah, I didn't mention, my H2 averages about 22 MPG highway on it's 4 gallon tank, and its 750 miles to Deals Gap if I go straight freight, so I'm figuring on a 2000+ mile round trip considering an IBA attempt, a few runs through the Dragon, some side trips, and a straight ride home...$300+ for gasoline alone and God forbid if I need repairs that I don't have the parts with me for.

Here is a picture of the bike on the morning of 8/22/06 as I'm getting ready to leave. My gym bag and sleeping bag settled down quite a bit against the bungee cords and got a lot closer to the seat by the time I got to town to fill up with gas. The jug on the side of the beer cooler is not 2 stroke oil...that is an empty jug for gas. Remember I have about an 80 mile range. With the weight as high as it is and as far back as it is, wheelies are a potential problem. The Kawasaki H2 is KNOWN for doing wheelies easily. Fortunately, the expansion chambers that I have allow for me to take off at low RPM (shameless plug for Tom in Knoxville, TN...he built the chambers for my porting) and wheelies are not a big issue as long as I don't let the motor spool up to to more than 5000 RPM (unloaded, this bike will stand straight up on it's tail at the drop of the hat in 1st or 2nd gear). I can ride this bike like a little old lady (not from Pasadena) or do 11 second 1/4 miles with it...my choice.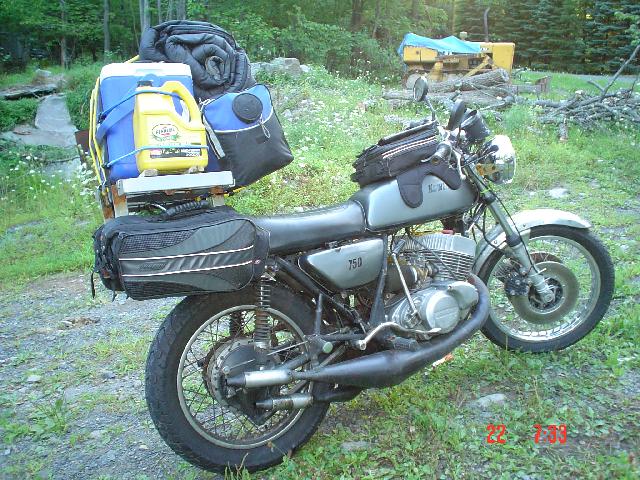 My big issue with the bike right now is that with all the weight so high up, the bike wants to fall over when it's on the kickstand. Kawasaki H2s lean a LOT when on the kickstand. You can't see it in the picture, but there is a 10 inch 2x4 under the kickstand. I make sure that I take the 2x4 with me on the trip. There were very few times when I didn't have to use it.

So, I head off for the gas station at the bottom of the mountain that I live on to get my cup of coffee, breakfast sausage (I can't do sugar, so a donut is out of the question) and gas fill up. I eat and ask the 2 adorable girls working at the station to sign my witness form, tank up at 8:14 AM on 8/22 (as per the receipt and my Trailtech computer) and head off west on I-80. Once I'm rolling, the weight and screwed up center of gravity is not an issue. It's not much different than carrying a passenger.

So off I go. I have the SS1000 ride mapped out, but I'm not pushing really hard to get it done...every other time I've pushed it, the attempt failed. I'm getting superstitious with an IBA ride and this particular bike. From the time I leave my house to the time I get to Frostburg, MD, the trip is completely uneventful other than in a construction zone near Pittsburgh and that was only an amusing sight. I'm one of those riders who pays close attention to my surroundings. The law of yeild to the larger vehicle has NEVER failed me no matter what I'm riding/driving. Anyway, I'm travelling through a construction zone near Pittsburgh. There is a construction worker using a concrete saw or something similar. I can see him in the distance and as I get closer, he stops working and looks at his saw like there is something wrong with it. Then he saw me. He heard my 750CC 2 stroke coming and must have thought that his saw was making some strange sounds. LOL

I keep going, stopping for gas and having a smoke at each gas stop. I grab a snack or a drink at alternate stops. 10 minute stops are my average...every 60-70 miles.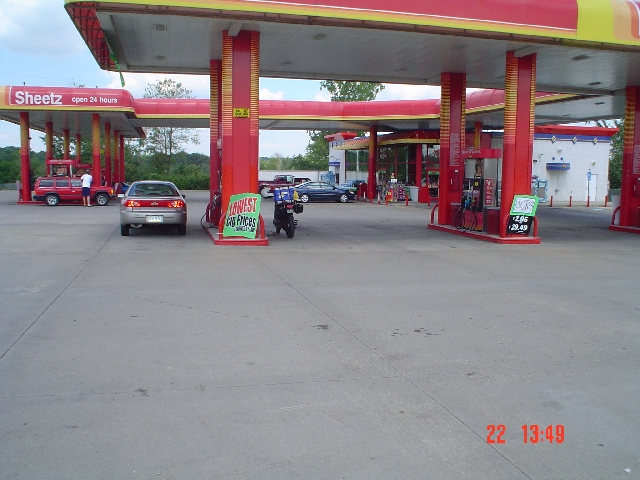 I get to my gas stop in Morgantown, WV and look at the map. Frostburg, MD is about 70 miles away. No problem. Except, that once I get to Frostburg, there are no gas stations. I rode all over town and found nothing. So I get back on I-68 and head east to the next exit...Lavale, MD is the town, but not the name on the exit sign. My bike takes 4.07 gallons of gas at the Mobil station 1/2 mile off I-68! This may not seem strange to a lot of people, but a Kawasaki H2 only holds 4 gallons of gas. I guess when I used my air compressor to remove a dent in the tank back in April, 2006, the tank must have swelled more than I thought. LOL. Oh yeah...my bike has a Pingel petcock on it. No reserve position. When the bike sputters at about 80 miles, I'm out of gas and out of luck. I figure that I was less than a mile away from having to push the bike to the gas station.

Now that I have gas again, I continue on to Hagerstown and hang a south on I-81. I stop at the first exit in West Virginia to get my corner receipt and keep heading south. My bike has been running like a champ for about 11 hours at this point. I'm not sore, but I started to develop a blister under one of the callouses on on my right hand. I have dirt bike carburetors on the bike and the throttle pull is pretty stiff. I have a throttle rocker on the twist grip, but it still takes a hard grip to hold the throttle steady. I ignore it and my next gas stop is in Woodstock, VA. I fill up at the 7-11, have a smoke, and give the bike the once over like I do at every gas stop. You know...the stupid stuff. Oil tank...OK. Tires...OK Lights...OK Chain...Oh crap...not OK. The chain is extremely loose. So, I push the bike over to the sidewalk in front of the store and ask if they mind me doing a minor repair on my bike. They tell me to go ahead, so I unload the bike to get to my tools in the cooler. I go to adjust the chain and I notice that several links are kinked and frozen. My 10 minute maintenance fix is now a 45 minute repair. Now, I've been using Parts Unlimited Heavy Duty chain for many years and it's never given me an issue UNTIL this year. Early this year I bought 3 of these chains (I have several bikes) and they must have changed the supplier. I've had to adjust this chain frequently since I put it on the bike in April. Because of this, I brought a spare chain with me...just in case. I also brought my chain breaker. Here is what a bad chain looks like. This picture was taken at the 7-11 in Woodstock, VA.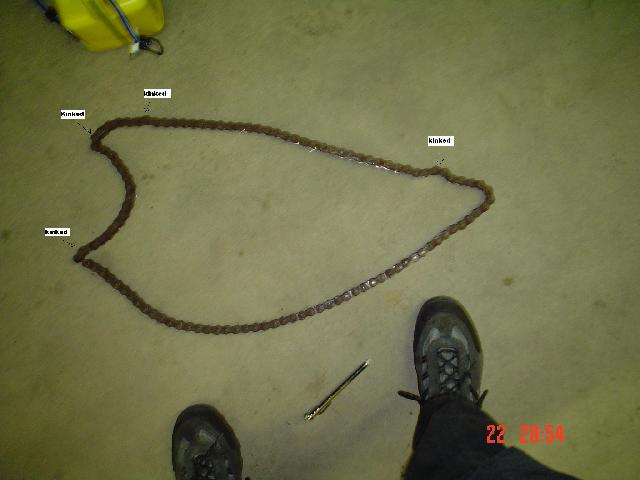 So I have the new chain installed, my mess cleaned up, and I go in to have a cup of coffee and a couple of cheese dogs. Since I took an hour for my initial gas stop and the repair, I figure that I might as well eat, have a cup of coffee and make it my supper stop.

I got back on the bike and continued south. I'm getting a little tired and starting to get sore at this point, so I start taking longer breaks. The trip has been uneventful so far, other than the chain issue. By the time I get to the TN state line, I'm pretty tired and my hand is starting to hurt quite a bit. At 2:55 AM on 8/23/06, I pull into the TN Welcome Center on I-81. From the Welcome Center to Deals Gap is about a 3 hour ride and I have 5 hours and 20 minutes left on the clock. Fortunately for the clock, I only have to get to Maryville, TN to beat it and get the 1000 miles. Maryville is 40-50 miles closer than Deals Gap. I had decided, before I got to the Welcome Center, that I can spare an hour for a nap, so I spread my sleeping bag on a picnic table, set my cell phone alarm for 4:00 AM and use my tank bag as a pillow. I wake up at 4:00 and use the restroom facilities. I want to give commendations where they are due. The Tennessee Welcome Center on I-81 South has some of the cleanest bathrooms I have ever come across. The entire facility is nice and well laid out and the staff is pleasant and friendly. I pull out of the rest stop and head back out on the road at 4:30 AM.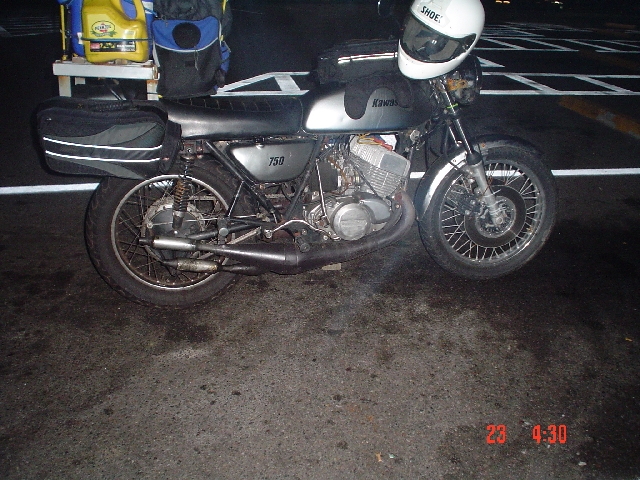 3 hours and 46 minutes left on the clock and I have 3 more gas stops to make. This is going to be close if I want to get Deals Gap as my final stop, but it's easily doable. I get gas in Blountville and again in Dandridge (corner receipt for I-81 and I-40). It's now 5:58 AM. I have 35 miles to go to get to the US 129 exit in Knoxville and then it's an hour and 15 minutes or so to Deals Gap. I'm on the home stretch. I'll have plenty of time to spare. Hell, I'll be waiting at the Deals Gap Motorcycle Resort for them to open up at 8:00 so I can get my final gas receipt. This is going to be good. Oh no...why is traffic slowing down? Oh crap...why are there TN State Police flying past me? Oh great...3 miles per hour on I-40. Must be a pretty bad wreck. After dealing with that for 15 minutes, I am seriously thinking of riding the shoulder to try and get as far up as possible. I crest a little rise in the road and I see the wreck in the left and center lanes only a couple of hundred yards ahead, so I go to the right and get around it fairly quickly. It was a pretty bad wreck. Someone rear ended a box trailer and drove it up over the SUV that was towing it. I didn't see anyone seriously injured (thankfully) but both cars and the trailer were destroyed and spread out over a fairly large portion of I-40. But now I have almost no time left. The buffer is pretty much gone.

I get to US 129 and head south to Maryville. I figure that any gas station in Maryville will get me my mileage, so I pull off at one of the last gas stations in Maryville. I tank up at 7:11 AM and while I'm filling up someone comes up to me and starts talking about my bike. Turns out that he is restoring a bike like mine and is a member of one of the messageboards that I'm on. We chat while my bike is filling and when it's filled, I grab my receipt from the gas pump and write down the mileage. Damn....the timestamp is wrong. Well, there is one more place before US 129 hangs a sharp left and starts going through the Tennessee foothills. It's about 4 miles further down the road. I pull in there, grab 2 packs of cigarettes, and pay with the debit card. The timestamp is dead on. 7:20 AM and 1075 miles on the odometer. 23 hours and 6 minutes from when I left home. Fantastic. I now have all the documentation that I need to get the SS1000 certified. But I still have to get to Deals Gap to get the certification that I WANT. I want my certificate to say East Stroudsburg to Deals Gap, not East Stroudsburg to Maryville. The IBA is flexible with place names, but not that flexible.

I head back out on US 129 and head to Deals Gap. I have 54 minutes to get there and the Dragon is between me and my destination. This is going to be interesting. I get to the Overlook at 7:52 AM and snap a picture of my gauge cluster with Calderwood Dam in the background. My time is so close that I didn't even turn the bike off when I took the picture. After 1090+ miles of almost constant running, this 35 year old bike is idling nicely at 1500 RPM...just like normal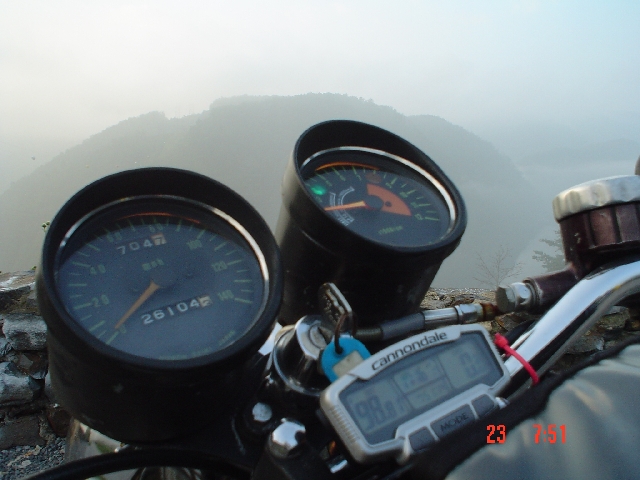 I jump back on the bike and head through the Dragon. It's almost exactly 10 miles from the Overlook to the Deals Gap Motorcycle Resort. I have 22 minutes to get there. I have to average almost 30 MPH to make this happen. The speed limit is 30 MPH except on many of the curves where it is 10 or 15 MPH. My bike is very top heavy and some of the curves had me nervous. Each mile marker I come to, I'm glancing at the clock on the Trailtech and doing the math. I'm using my brakes more than normal, I'm going a lot slower, but I manage to get through the Dragon without having gravity take over in the sharper corners. I'm really glad that I am very familiar with this road.

I finally get to the Deals Gap Motorcycle Resort and pull up to the gas pump. I fill the tank and pay the bill with my debit card. The timestamp matches my Trailtech's clock. 8:12 AM. Woo-Hoo...I made it. 23 hours and 58 minutes. 1108 miles according to my odometer. Dimwit me forgot to take a picture at the Deals Gap Motorcycle Resort gas pumps. I bought a cup of coffee, lit a smoke, and sat down to fill out all the paperwork. I made the meet getting there on a bike that was designed to NOT be used for that kind of riding. I socialized for a couple of hours and I then took a nap. LOL

The paperwork is in the mail to the IBA for their approval. If they approve my claim, this will be my 2nd Saddlesore 1000 ride.

While at the meet, after I did a couple of runs through the Dragon, I checked my new chain. It was kinked up just like the one I changed in Virginia. I went to Robbinsville and bought an EK O-Ring chain. I spent a couple of very relaxing and enjoyable days just hanging with friends, riding, and drinking beer (after the day's riding was done). This vacation was sorely needed.

I left on 8/27/06 for the 750 mile trip back to East Stroudsburg.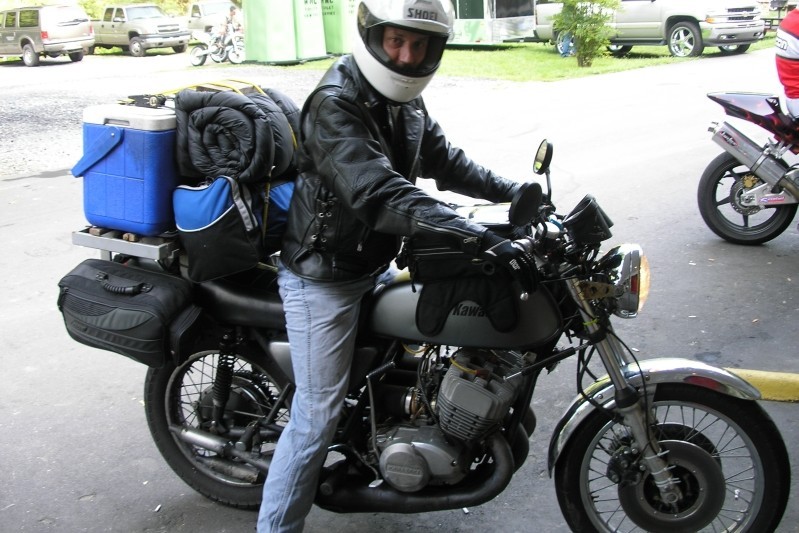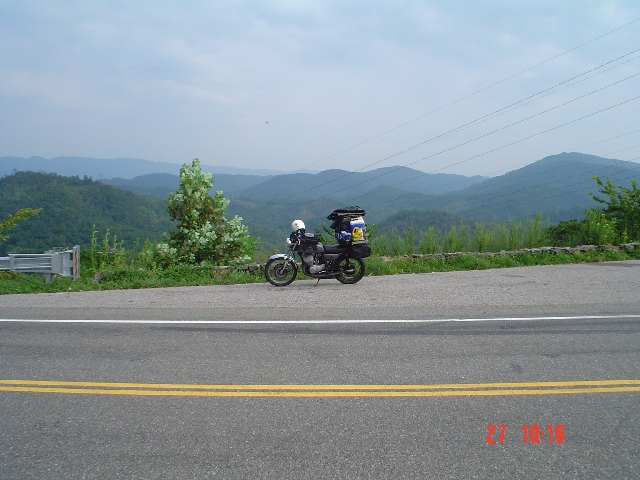 My ride home was completely uneventful and peaceful. I took 2 days to do the 750 miles LOL. Once I got back into cell phone range, I checked my voicemail and there were a couple of messages from the HD dealership. I called back and was told I could start immediately. I started my new job the day after I got home.

My ride was approved by the IBA and I received my certificate on 10/16/2007

Jeff Gootblatt
IBA #24595 (originally earned on a 1973 GT550)