How NOT to do an Ironbutt ride.

Deals Gap, NC to East Stroudsburg, PA via Pittsburgh, PA

Let me start off by saying that I've tried twice before to complete an Ironbutt Saddle Sore ride. They say that the 3rd time is the charm. Well, it was in my case.
The first time I tried was in September, 2002. I had to deliver a van to a friend in Tennessee, so I figured that I would load my bike in the van, drive to TN, unload the bike and ride home the long way. Unfortunately, I ended up being 1/2 a day ahead of Hurricane Isadore, so I decided that safety (and dryness) was more important than a certificate and I went straight home...only 750 miles. 1st attempt killed on the drawing board.
The second time I tried was in July 2003. A friend and I mapped out a plan that took us from Basking Ridge, New Jersey to North Carolina and back. We left nice and early on a Friday morning and 9 hours later, due to horrendous traffic, we had managed to get as far as Manassas, Virginia, where Ken's Harley overheated in the traffic. We sat on the side of the road for 2 hours until the HD cooled down enough where I was comfortable enough to try and restart it. Man, those bikes hold their heat LOL. We headed home, as we had used ALL of our allocated rest time plus some and only travelled 250 miles. 2nd attempt foiled by weekend traffic and a hot Harley. On a side note, while we were sitting there on the side of the road, many people (also stuck in the traffic) offered us cold drinks ranging from water to beer. We accepted the water and Cokes…never know when a police officer will show up LOL
My third try was a completely unexpected success.

I wasn't even trying to do a Saddle Sore.

A couple of paragraphs of background info first, though.

In August, 2005, I decided to join some friends for a small get together at Deals Gap in North Carolina.

It was a modest 2 stroke meet with about 10 of us getting together.

I took a few day's off of work and figured that on Thursday, August 18, I'd hop on my 1973 Suzuki GT550 and leave East Stroudsburg, PA for a nice long ride.

Now, a couple of things about the way I ride.

I don't like riding in the rain, I don't like riding at night, I don't like being cold, and I'm not one who loads on the safety gear when I get on my bike.

I wear a leather jacket (sometimes), a Shoei or KBC Snell approved helmet (always), jeans, leather boots or high top hiking shoes (bad ankles) and occasionally gloves.
Anyway, the weather was supposed to be good for the entire weekend, so I loaded a cooler with some tools, spare parts (32 year old bike), 4 quarts of 2 stroke oil, a can of chain lube, and some other necessities.

I strapped that to the luggage rack on the GT along with a sleeping bag, a gym bag with a couple of changes of t-shirts, underwear and jeans, and my rainsuit.

I may not like riding in the rain, but Mom didn't raise a complete fool LOL.
8:00 AM on Thursday, August 18, 2005, I get ready to head out when I realize that I forgot to change the oil in the transmission (the 2 full bottles of Belray Gearsaver on the workbench was the tipoff) and the front brake pads that had just started squealing badly (new ones were next to the Belray), so I do that real quick and head out to meet my friends at the Gap. The ride to Deals Gap was pretty uneventful other than the rainstorm that drenched me for 50 miles in southern Virginia. I spent the night at the Tennessee welcome center on I-81 sleeping on a picnic table. I arrived at Deals Gap at 9:00 Friday morning. I spent 2 days riding all over NC and TN with several friends on 2 stroke street bikes (gives new meaning to the name "Smoky Mountains") and I had a great time. Among all of the 2 stroke riders there, there were 2 other Iron Butt Riders...Allen Wood, who I've known for a few years and Gordon Lamb, who I met face to face for the first time a month earlier at Mid-Ohio Vintage Days. The only issue I had the whole weekend was a flat tire at the intersection of TN 72 and US 129. Fortunately there was a brand new motorcycle repair shop at the intersection and they had a replacement tube in stock. A half hour and $32.00 later we were on our way. Sunday morning we all pack up and get ready to leave. A bunch of us went to breakfast and then we part ways. 2 of my friends, Ed and Rick, decide that since they are leaving later in the day that they will ride through the Dragon with me as far as the Overlook, so off we go. Here we are at the Overlook. I'm taking the pictures, so I'm not in them, but the green bike with the beer cooler strapped to it is my 1973 GT550. Rick gives me a Throttle Rocker as a going away present...best present I ever got :)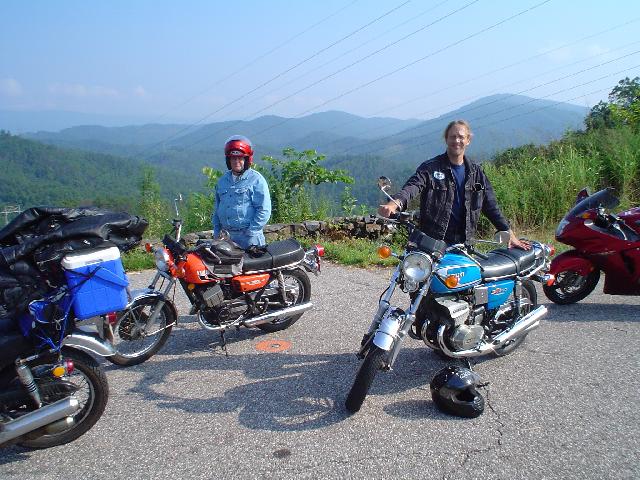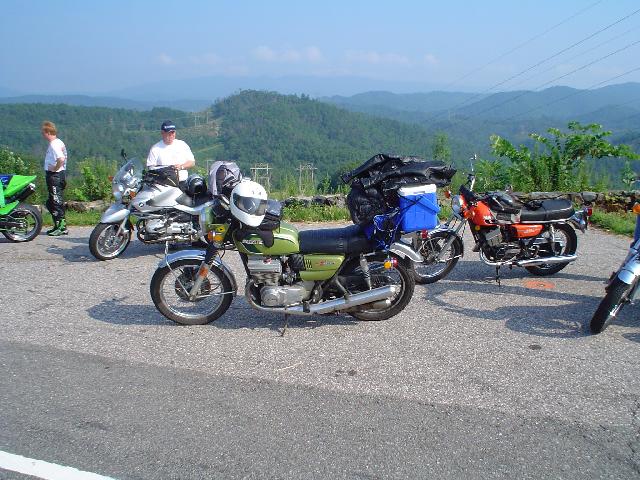 I leave the Overlook and head home just after 10:00 AM on Sunday, August 21.

I stopped in Alcoa, TN for gas just before I get on I-40 for the highway ride home.

Fortunately, I stuck the gas receipt in my pocket...habit from my days of having to use my personal vehicle for business when I was a tech with AT&T.

I took my time riding home.

I was figuring on a 2 day leisurely ride.

I stopped when I needed gas, which is about every 90-110 miles.

I stopped when I wanted a cigarette.

I chatted with other riders at rest stops for 20 minutes at a time, and met several very nice people in the process.

Basically I took my time and enjoyed being out on the road.

At about 7:00 PM, I realize that I have travelled almost 450 miles and I was feeling great.

I was also on a schedule that would put me home just after Midnight if I kept riding.

If I rode until Midnight, I only had to go another 250 miles and I had 10 hours to do it in.

A BIG light flashed over my head.

I can do 250 miles in 10 hours EASILY...Ironbutt, here I come.

I pulled off at the next truckstop (the Sheetz in Mt Jackson, VA) and bought a map.

I also checked my pockets to make sure that I had all (or most) of my gas receipts to that point (I did) and enough cash for gas in case my ATM card crapped out (it did)
I borrowed a tape measure from the cashier at the Sheetz to figure out the map scale, step outside the building, and while having a smoke, I tried to figure out a route that will get me over 1000 miles and end in East Stroudsburg, PA. I came up with a relatively simple route that would add enough mileage and keep me off of I-80. I needed to stay off of I-80 because I remembered all the construction delays I ran into a month earlier on my way home from Mid-Ohio Vintage Days. The route I came up with was going to be close, based on using a 25 ft tape measure on a road map, but I thought it would work. If I continued north on I-81 to I-70 in Maryland and hang a west to I-68, that would take me to Morgantown, WV. I could then go north to I-70 near Pittsburgh, PA where I would get on the PA Turnpike and take it almost to Philadelphia, PA. I would then take the PA Turnpike NE Extension to Allentown, PA and head home from there via US22 and PA33, both 4 lane limited access highways.
Alright!!!! This was going to work! It was going to be dusky dark by my next gas stop, so I unstrapped my leather jacket from my pile 'o stuff on the bike and put it on…more for bug protection than warmth at that point. Yes, I had ridden 450 miles wearing just a t-shirt and jeans. I headed up to I-70, gassed up to get the corner receipt, and hung a west. I figured that any receipt from a station on I-68 would suffice, so I pulled over in Flintstone, MD for gas. I got VERY lucky. I got there just as the station was closing at 10:00 PM and was able to fill up. They turned off the lights as I was tanking up. Before I stopped in Flintstone, the temps dropped into the low 50's. I was cold. I stopped frequently just so that I could stop shaking. I was NOT dressed for this. Remember, I'm wearing jeans, a t-shirt, and a leather jacket. I stopped at every open truckstop and convenience store to try and buy a sweatshirt...no dice, so I'm sucking back hot coffee like its water. Fortunately, I have a bladder the size of a watermelon, so bathroom breaks are few and far between. Finally, in Morgantown, WV, I remembered that I had several dirty t-shirts in my gym bag. I put on all of them. I smelled terrible, but I was warm(er). That almost took care of the coldness, but it allowed me to keep riding at 70 MPH, give or take a few. I had been about ready to give up and get a room for the rest of the night. I headed north from Morgantown on I-79 and went to I-70 near Pittsburgh. At the gas station in Eighty Four, PA (yes, that is the name of the town) the lady on the night shift wouldn't let me pay for my coffee or hot dog after I told her what I was trying to do...she asked, so I told her. LOL I jumped on the PA Turnpike and just rode, stopping at each rest stop/gas station because I didn't know where the next one was. Remember, I have a safe range of 90-110 miles on this bike. At about 3:00, I realize that I NEED a nap...desperately. I've been awake for 21 hours and on the road for most of 17 hours. So, I pulled off at the next rest stop on the PA Turnpike.
Now, I don't know how many of you own or ride Vintage bikes, but if you do, you realize that whenever you go somewhere, someone wants to talk to you about the bike. They may have owned one in the past, or they just like them. Here I am, at 3:00 AM, at a rest area in the middle of Nowhere, PA, about to fall over from exhaustion, and some guy wants to talk about antique bikes!!! Not what I had in mind. Anyway, after chatting for a half hour with this guy, trying to be personable at the same time I'm dropping hints all over the place, I finally spread my sleeping bag out on the parking lot next to my bike and using my tank bag as a pillow, I take a nap. I had set my cell phone alarm to go off at 5:00 AM. I didn't need to bother. At 4:30 AM, someone pulls into the spot a couple of places from me and decides to be very uncourteous and noisy for 1/2 an hour while they clean the trash from their SUV, get organized, and go to sleep in the SUV. They managed to wake me up in the process. I'm a light sleeper, and once I'm awake, I'm awake. Besides, I'm in unfamiliar territory and I'm in more of a combat sleep mode than a real sleep mode. Anyway, I'm rested enough to continue. So I slowly load up my bike, walk into the store, get a cup of coffee, and at about 5:30, I'm ready to leave. You would think that those uncourteous people who woke me up had never heard a 2 stroke motor fire up right next to them at 5:30 in the morning. I think they left head shaped dents in the roof of their Suburban. LOL
So, now, I'm 1/2 way across Pennsylvania and have 4 and 1/2 hours to get home. Not a problem as it's a 3 - 3 1/2 hour ride from where I took my nap to my house. I still have to ride to Valley Forge, PA, Allentown, PA and home. I'm figuring my time from when I left my friends at the Overlook, not when I got my first gas receipt. 200 miles tops...no problem at all. Other than the fact that my bank's fraud detector shut my ATM card off at my next gas stop. My last few gas receipts are cash receipts. I get home to East Stroudsburg, stopped at the gas station at the bottom of the mountain I live on, topped off the tank, and asked Lee, the station attendant, to sign the receipt. It was about 23.5 hours from when I left my friends at the Overlook at Deals Gap. I then went the 5 miles home, printed out all the forms, and drove back to the gas station to get an end witness form signed by Lee before she went off shift.
1139 (certified) miles in 23 hours on a 1973 Suzuki GT550. For those of you who don't know, a GT550 is an air cooled, 3 cylinder, 2 stroke motorcycle with a points ignition and an upright seating position. Mine has a luggage rack which makes it easier to pack, but it throws the center of gravity WAY off, which made for some interesting riding through the Dragon at Deals Gap. Overall, I rode a 32 year old bike for 2200 miles over the course of 96 hours and had the time of my life. I'd do it again in a heartbeat, with some changes in my preparations. The bike didn't miss a beat.
Here's the list of stuff where I mean the way to NOT attempt an Iron Butt ride.
1. Doing maintenance on the bike immediately before taking off on the trip.
2. Dressing for the trip. I had no cool/cold weather gear and I paid dearly for that.
3. Adequate planning. I made ALL my decisions on the fly
4. Eating correctly. I drank LOTS of coffee and ate nothing but junk food. Then again, that's my regular diet LOL.
5. Adequate rest. I started off after an exciting weekend and several hours after I woke up on the final day of that long weekend. I didn't stop until I was very tired. I rode past my limit. Big mistake and STUPID! Fortunately, I realized it before I became a statistic and I pulled off at the next available opportunity and took a nap. For safety's sake, I should have stopped when I first started getting tired.

Here are a couple of tips that I have for anyone planning a long distance ride, whether it be an Iron Butt attempt or a 400 mile trip to Grandma's and back..

1. Get a tank bag. These things come in handy for holding all the stuff that you may need in a hurry...gloves, camera, cell phone, map, etc.

2. Get a MP3 player with a GOOD set of earphones. I like the over the ear type instead of the earplug type, but that is my personal preference. Once I put my helmet on, I just stuff the earphones into the helmet next to my ears. My MP3 player is a SanDisk Micro Cruzer. It's a 512 MB USB memory key with the MP3 player option. At 96-128 bps resolution, it holds about 8 hours of music and will run almost that long on a single battery. Spare batteries go in the tank bag. I rip my songs at the lower resolutions because on the road, you really can't hear CD quality or better with all the wind noise and motor noise...radio quality is more than sufficient.

3. Know your bike and know how to fix problems on the side of the road. I can't stress this enough. Carry tools that will let you do anything that you are comfortable doing and carry some common spare parts...spark plugs, a few feet of electrical wire, a roll of mechanics wire, tape, a tire patch kit with a CO2 tire filler, spare CO2 cartridges and tire irons (if you have a tube type tire). Do not rely on the tools that come with the motorcycle. They are worthless at best. Head to your local Sears and buy Craftsman or stop at a local garage when you see the Snap-On or Matco truck there.

4. Get a good rainsuit. I discovered on 8/19/2005 that mine sucks, so it will be getting replaced soon...probably with Frog Toggs. (12/15/06 edit...it was replaced with Frogg Toggs in May 2006)

5. Get a Throttle Rocker. This is a gadget that goes on your right grip and it allows the heel of your hand to hold the throttle open instead of having to use a gorilla grip for the last 1/2 of the ride when your hand is numb. They cost about $10.00 and are worth 10 times that. I'm the parts manager at a motorcycle dealership...I got back to work on 8/23/05 and immediately ordered a box of them to sell in the shop. They are good sellers :)

I hope you enjoyed this story.

Jeff Gootblatt
East Stroudsburg, PA
IBA # 24595

copyright 2005